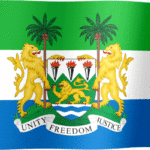 Election Observation Reports
An election observation report is a document that provides an assessment of the conduct of elections in Sierra Leone, usually by an independent body of observers. The report typically includes observations and analysis of the pre-election, election day, and post-election phases, as well as recommendations for improving future elections. The goal of election observation is to promote transparency, integrity, and accountability in the electoral process, and to ensure that elections are free, fair, and credible. The report may be used by national and international organizations, governments, political parties, and other stakeholders to monitor and evaluate the conduct of elections, to identify areas for improvement, and to promote democratic values and principles.


National Election Watch (NEW) Report
OBSERVATION OF THE 2018 ELECTORAL CYCLE IN SIERRA LEONE

The Commonwealth Report
Sierra Leone General Elections 2018

European Union Report
Final Report Republic Of Sierra Leone Presidential, Parliamentary and Local Council Elections 2018
Our observers Believe in Us
Here is a glimpse of 2018 reports
The second peaceful transition from one elected leader to another was an important milestone in the consolidation of democracy in Sierra Leone. The NEC proved its genuine commitment to a transparent and inclusive election.
National Election Watch (NEW) 2018 elections monitoring and observation work was more encompassing than in previous years; demanding greater resources, technical expertise, logistical, coordination and related requirements.
These elections were the fourth multi-party elections held in Sierra Leone, since the end of the decade-long civil conflict in 2002. Notably, these were the first elections to be managed entirely by national authorities following the departure of the United Nations mission in 2014. With the emergence of some new political parties and candidates, the elections were competitive and fiercely contested.